Mit der Balloon Dog Sammleredition aus hochwertigem Porzellan griff Koons das ikonische Motiv seiner zwischen 1994 und 2000 entstandenen, überdimensionalen Balloon Dog Skulpturen aus der gefeierten Celebration Serie auf.
Erste Skulpturen bereits mit 9 Jahren
Bereits mit 9 Jahren fertigt Koons seine erste Porzellanskulptur in Form eines Schwans an und legt damit den Grundstein für den Balloon Swan.
Unbeschwerte Motive
Jahrzehnte später transformiert Koons seine Kindheitserinnerungen in verführerisch reflektierende Skulpturen, die durch ihr unbeschwertes Motiv an die Flüchtigkeit aller Freuden des Lebens erinnert und sich Koons' weltberühmte Celebration Series als Vorbild nimmt.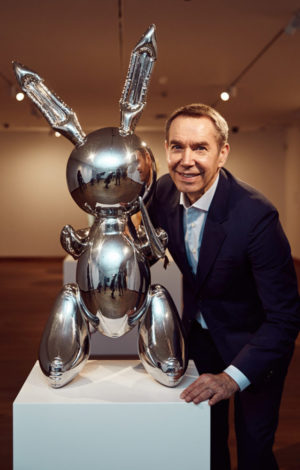 Jeff Koons with Rabbit (1986) Photo by David Fischer, 2019
Art is something that happens inside us. We look at things in the world, and we become excited by them. We understand our own possibilities of becoming. And that's what art is.