Bob Dylan (geb. 1941, Minnesota, USA) gilt als einer der einflussreichsten und bahnbrechendsten Künstler der Welt. Von seiner Musik wurden bis heute mehr als 125 Millionen Platten auf der ganzen Welt verkauft. 2016 gewann er den Nobel-Preis für Literatur. 2019/20 wurde im Modern Art Museum in Shanghai eine große Retrospektive seiner Kunst gezeigt.
Dylans Arbeit als Zeichner und Maler beginnt schon in den 60er Jahren
Dylan selbst datiert die Ursprünge seiner Arbeit als Zeichner und Maler in seiner Biografie auf die frühen 1960er Jahre. Seine Pinselstriche sind wie seine Stimme: geradlinig, rau, manchmal zerbrechlich, aber immer darauf bedacht, die Schritte der menschlichen Erfahrung zu veranschaulichen.
Drawn Blank
1994 erschien erstmals ein Buch mit 92 seiner Zeichnungen mit dem Titel 'Drawn Blank', welches 2007 neu aufgelegt wurde. Infolgedessen wurden seine Bilder in den Kunstsammlungen Chemnitz sowie erstmals in der Halcyon Gallery, London gezeigt. Die originalen 'Drawn Blank'- Skizzen stammen aus den Jahren 1989 bis 1992. Dylan erklärt, dass er sie gemalt hat, um sich zu entspannen und seinen Geist neu zu konzentrieren, während er durch Amerika reiste.
"Asia Series"
Ein Höhepunkt war Dylans erste New Yorker Ausstellung im Herbst 2011 in der Gagosian Gallery, wo seine 'Asia Series' ausgestellt wurde. Diese Werke spiegeln seine Zeit in China, Japan, Vietnam und Korea wider, zitieren aber auch aus der Kunstgeschichte, darunter Werke von Édouard Manet, Paul Gauguin und Henri Cartier-Bresson.
"The Beaten Path"
Im Februar 2013 zeigte der Palazzo Reale in Mailand Dylans New Orleans Series. 2016 eröffnete Dylans große Ausstellung 'The Beaten Path' in der Halcyon Gallery. Ein Kunstkritiker des 'Guardian', würdigte diese Werke als Kunstwerke eines wahren Dichters.
"Mondo Scripto" – Handschrift und Zeichnung
Die Ausstellung 'Mondo Scripto' wurde im Oktober 2018 in der Halcyon Gallery, London eröffnet. Präsentiert wurde eine Auswahl der berühmtesten Lieder von Bob Dylan, handschriftlich mit Feder auf Papier und mit einer entsprechenden Zeichnung aus Graphit.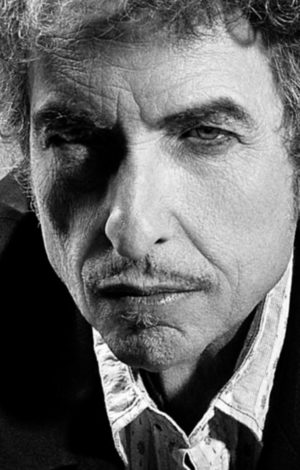 Dylan is continually breathing new life into his songs both musically and lyrically
If you dig Dylan, you'll know what these mean - and if not what are you waiting for? Get digging!
Dylan - who was awarded the Nobel Prize for literature in 2016 - continues to refuse to be pinned down over interpretation of his work
Dylan has revealed something about why he continues to wield influence so huge as to be almost inconceivable for a living artist.